Email Sentinel Pro
Step by step instructions: anti-spam validation
Prevent spammers to verify and validate your email address
Spammers are using HTML nested forms, images or scripts to validate your email address (once a spammer knows that someone reads the emails sent to an email account, he will send more spam...). Spammers use every possible way to validate email addresses via HTML code.

For example, if you receive an email containing news feeds, most of them are retrieved from a server when you open the message (they are not sent within the message as text, but as a link that loads a text). By allowing HTML, those news feeds will still work and if someone uses it for bad purposes, this way a spammer can think "aha, he downloaded the news feed from our server, so there is a real person reading those emails, let's send more spam".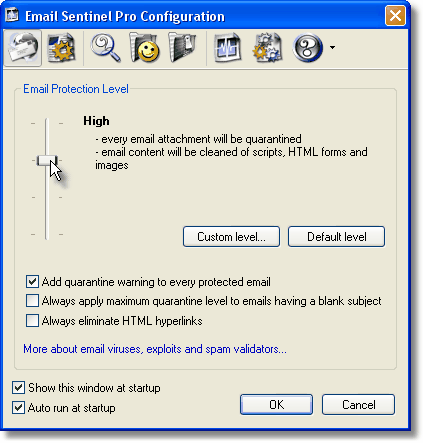 Images are not dangerous for virus related reasons, but images are the most common way for a spammer or hacker to validate your email address. As you may noticed, most images from within spam emails are not sent within the email, but they are loading from a server when you view the message. They do so only because when the image is loading from the server, on the server there is a program which records that there is a "call" for that image, made from that IP and that email address.

As a result, the spammer will know that you read the message. You have to understand that most spammers to not have the time, skills or technology to manually validate email addresses. Most of the times, they use programs to generate email addresses (like combinations of common names) and they send test emails to those accounts. These test emails contain images and most of the times, they contain white tiny images, on a white background (so you don't even see them). But their server will know when the tiny image loads, so as a result it validates your address.

The safest way to protect your email box against spam is by using Email Sentinel Pro to convert incoming emails to harmless plain text.